Hello my reading peeps! (I've always wanted to start off a blog post with that. Also I wrote this post on a Wednesday, so just go along with the next part.) It's Wednesday! (prepare yourselves for a motivational speech in 3…2…1…) APPRECIATE Wednesdays; it's the day of the week when it's finally nearing the end half. How exciting!
Okay I could just about write an essay of an introduction about Wednesdays, but first… Thank you to my fave bookish twins @TwinBookmarks for tagging me! Hit their link, because, to sum everything up, they are awesome people with an awesome book blog so just do it! Well I sound ridiculous, but I tell no lies.
---
The Rules:
---
Moving onto…
WHAT CATS DO:
They sleep. Oh yeah, and eat.
AKA living my dream life.
Kidding!
Kinda.
Okay not really.
---
Purr – as cats do when they're happy or relaxed, what is the book that makes you happy or relaxed?
The Land of Stories series! I read these way back in the fifth grade, and the newest one came out this year; I had no shame in reading it! This is probably the only book that's not YA that I've read in years. It is basically one of those books that is a twist on some world renown fairy tale, BUT this series is ALL of the fairy tales you know, in one amazing clump of pages. You'll probably think it sounds lame, but trust me, it's not. It recreates some of the characters, and gives them personalities you could NEVER imagine them having (for example, Goldilocks is a kick-butt criminal, and Little Red Riding Hood is a spoiled, extra, boss Queen who is my idol). I love this series to death. The characters feel like your actual friends by the end and…Okay erm I sound pretty pathetic. Onto the next question!!
Sleep – what is a book that put you to sleep, or was just boring?
I hate to say it but, my answer is a super hyped over book: Matched. It took me such a long time to finish, that in fact, I stopped reading it for a few weeks and then picked it up again to finally finish. I don't know, it didn't really appeal to me as that interesting. I thought the idea was good, but the more I read on I questioned their whole society, and it just seemed more ridiculous. It would take me a while to explain but a society like that would simply never function. People wouldn't fall in love with strangers they are assigned to and go along with it! That practically defeats the definition of love entirely. Which I know is the point of the book, but WHATEVER.
Twitch While Dreaming – have you ever dreamt of a book you read?
This is a pretty interesting question. But to be honest, what bookworm hasn't dreamt of a book?! I knew I had, but I forgot which one for a while. It was Maximum Ride, because, if you didn't know, I used to have a ridiculous obsession over the manga series. It was actually unhealthy. The series was a literal poison to my head, given it was all I would EVER think about for a year. You guys don't even understand the obsession status I had with this series; it was something almost none of you have probably dealt with before. You THINK you are obsessed with a book, unless you knew me when I was twelve. I would draw pictures of them, create endless fanfiction, reread the books every night (not an exaggeration at all), hang up quotes on the wall, and at one point I was fixed on memorizing every line in the first book. I would consider their existence. There is so much more I'm not even going to tell you all, because it will probably scare you. WOW AGH NEEDLESS TO SAY I WAS OBSESSED.
There isn't a book I am more obsessed with now than that series, and my love for reading has only grown.
Seems to Play Nice…until the claws are out – which book had the biggest plot twist?
Not just City of Bones in particular, but the WHOLE TMI series is full of plot twists that mostly consist of dead people being not dead, not gonna lie…
This book is full of messed up family complications, and it's amazing and I love it. I have learnt not to judge a book by it's cover from this, because I HATE the cover more than anything. They didn't even get the hair right!! Well, technically they did, but, despite Cassandra Clare's description of Jace, I imagine him with short hair like he has in the show. (Bad bookworm!)
Cuddles – which book character would you give a hug to?
Almost anyone in The Book Thief. The main characters are all so innocent, but they're Germans, (who live during WWII) which leads a lot of people directly to the assuming, "They must be evil because they live in Germany and that's where the Nazis came from!" Well that's not at all true because the people in Germany were struggling too during those times, and so that leads us to the story that focuses around Liesel and Rudy. They are merely children living in the midst of the chaos, and ahhhh you only will understand if you've read it! If you have, wouldn't you want to give Rudy or Liesel or Hans, a hug too?!
Catnip – what's a book that made you have warm and fuzzy feels?
Ahaha I could compose an endless list of books that make me feel warm and fuzzy, but one that stands out, is The Unexpected Everything. It's your typical Morgan Matson, cute predictable, little contemporary, book, that you can't help but love (there is a fine line between cheesy and cute contemporaries people). The protagonist, Andy, lives woth her father, who is a big political figure. She is expected to do everything perfect so that she doesn't ruin her Dad's reputation. Andy escapes the judgmental world of her Dad and the press, and gets a job as a dog walker. Sounds boring right? Matson incorporates problems with friends, family, and not just Andy's love life, that makes me love this book. Not to mention the cover. 👌
Cat Breeds – what are your favorite books?
No explanation necessary, just read them and love them, so we can fangirl together! Side note: you MUST read The Mortal Instruments (yes all of them) before reading Lady Midnight, because if you don't, well, HAVE FUN GETTING LOST. In fact, VERY lost. You're welcome for making a meme to teach you guys a lesson.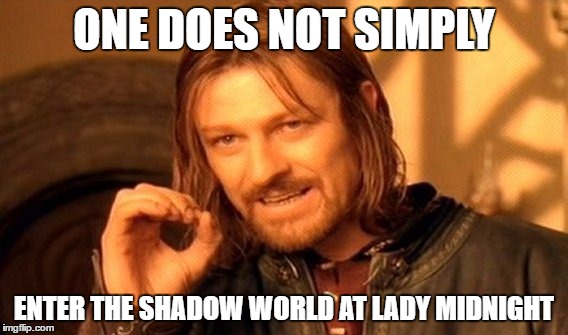 The Vet's Office – least favorite book:
Ew ew ew ew ew. (*1,000) This was my friend's favorite book so I decided, hmmm it can't hurt to try it! A lot of people love this book, so if any of you are reading this right now, please spare yourselves and leave because I am about to do some major hating on this book.
Everything about The Start of Me and You made me want to find a lighter and burn it into ashes (unfortunately it was a library book). It is the cheesiest romance imaginable. I won't even go into details right now, because they are in the answer to the question below! Voila!
Being in Places They Shouldn't – least favorite cliche:
When the protagonist is crushing on the coolest kid in school, and they're like EW I DON'T WANT ANYONE ELSE. ESPECIALLY THAT DORK. And thennnn…BOOM she falls in love with the dork a week later because she disovers that the cool kid isn't actually that cool and the dorky boy is all she ever wanted in life. (example above) I also hate how predictable half of the contemporaries in existence are. I can appreciate romance, but it's hard for me to appreciate it when it's in a book alone. Let's say x is equivalent to any other genre, and here's the math:
Contemporary = 50% (🙅)
Contemporary + x = 90% (😁)
Final Question: The Good Old Cardboard Box – most underrated book series:
This is mostly a kids book, (for 4-5-6 graders?) but OMG they are amazing. You have to believe me. They were like the Land of Stories series but better. There are about ten in the series, so I can't fit them all on here! The third book, The Problem Child was my favorite: it was basically about a messed up version of Red Riding Hood who lives in an asylum and wants to take over the world? As I mentioned before, this is a children's book, but if anyone wants to read them now, it wouldn't suck. For a not-ten-year-old. That's pretty good if you ask me.
I Tag:
thegeckoonline | sydneysshelves | emiesnook | adventuringirl | Shouni | Purely Olivia | Marie | KrystiYAandWine | Book Snacks